Powerextra
Regular price
Sale price
$14.99
Unit price
per
Sale
Sold out
Upgraded 3500 mAh High Capacity, Perfect Replacement for Milwaukee 12V Battery
Description
Replacement for Milwaukee 12 Volt Battery: 100% Brand New | Voltage: 12V | Capacity: 3.5Ah | Type: Li-ion.

Applicable Models: 100% Fully Compatible for Milwaukee M12 Cordless Power Tools: 48-11-2401 48-11-2402 48-11-2420 48-11-2430 48-11-2440 48-11-2460 48-11-2411 48-11-2412. Perfectly fit for Milwaukee Original Charger: 48-59-2401.
Higher Performance: Have longer running times: our M12 replacement batteries upgraded to 3500mAh are smaller and lighter than NiCd compact batteries, but offer longer running times and unattenuated power.
Safe & Reliable: Made with high quality lithium ion battery without memory effect. Can be charged or discharged as needed without loss of capacity. It will provide optimized performance and short circuit protection and steady voltage circuit, all of these lengthen battery life.
Compatible With
(Use"Ctrl+F" to find PN & Model)
Compatible Part No: For 48-11-2401, 48-59-1812, 48-11-0140, 48-11-0141, 48-11-0200, 48-11-0251, C12 B, M12
Compatible Models:
For Milwaukee Fork, Clamp, Laser Meters and Scanners: 2207-20, 2207-21, 2238-20, 2238-21, 2239-20, 2239-21, 2276-20NST, 2276-21, 2276-21NST, 2277-20, 2277-20NST, 2277-21, 2277-21NST, 2290-20, 2290-21, 2320, 2320-20, 2320-21, C12 WS
For Milwaukee M-Spector Inspection Cameras: 2310-21, 2311-20, 2311-21, 2312-21, 2313-20, 2313-21, 2314-20, 2314-21, C12 IC
For Milwaukee Drills, Drivers, Screwdrivers, and Rotary Tools: 2401-20, 2401-22, 2402-20, 2402-22, 2403-20, 2403-22, 2404-20, 2404-22, 2410, 2410-20, 2410-22, 2411-20, 2411-22, 2415-20, 2415-21, 2450-20, 2450-22, 2455-20, 2455-22, 2460-20, 2460-21, C12 D, C12 DD, C12 ID, C12 PD
For Milwaukee Impact Wrenches: 2451, 2451-20, 2451-22, 2452-20, 2452-22, 2453-20, 2453-22, 2454-20, 2454-22, C12 IW
For Milwaukee Reciprocating, Band, Jig Saws, Hackzalls and Pipe Cutters: 2420-20, 2420-21, 2420-22, 2429-20, 2429-21XC, 2445-21 / M12 JS jigsaw, C12 HZ, C12
Specifications
Voltage: 12V
Capacity: 3500mAh/3.5Ah
Battery Composition: Lithium-ion (Li-Ion)
Color: Red and Black
Material: made with the high quality materials
Type: For Milwaukee Battery
Package Include
1 or 2 * 3.5Ah battery For Milwaukee M12

Note
The battery must be FULLY charged before first use.
The battery is stored in a cool and dry place.
Do not Separation, extrusion, and impact.
Do not put battery into water and fire.
Keep away from children.
Share
View full details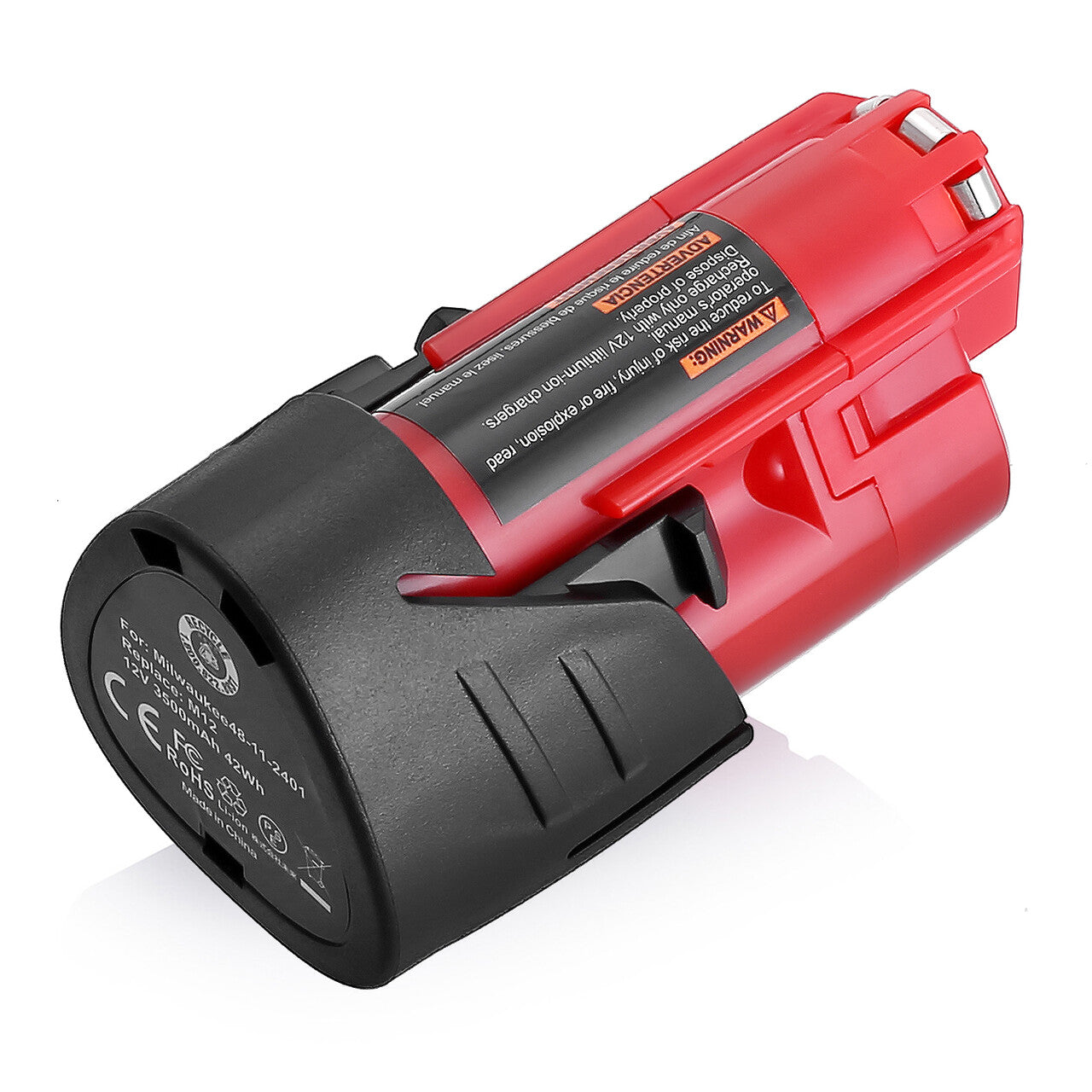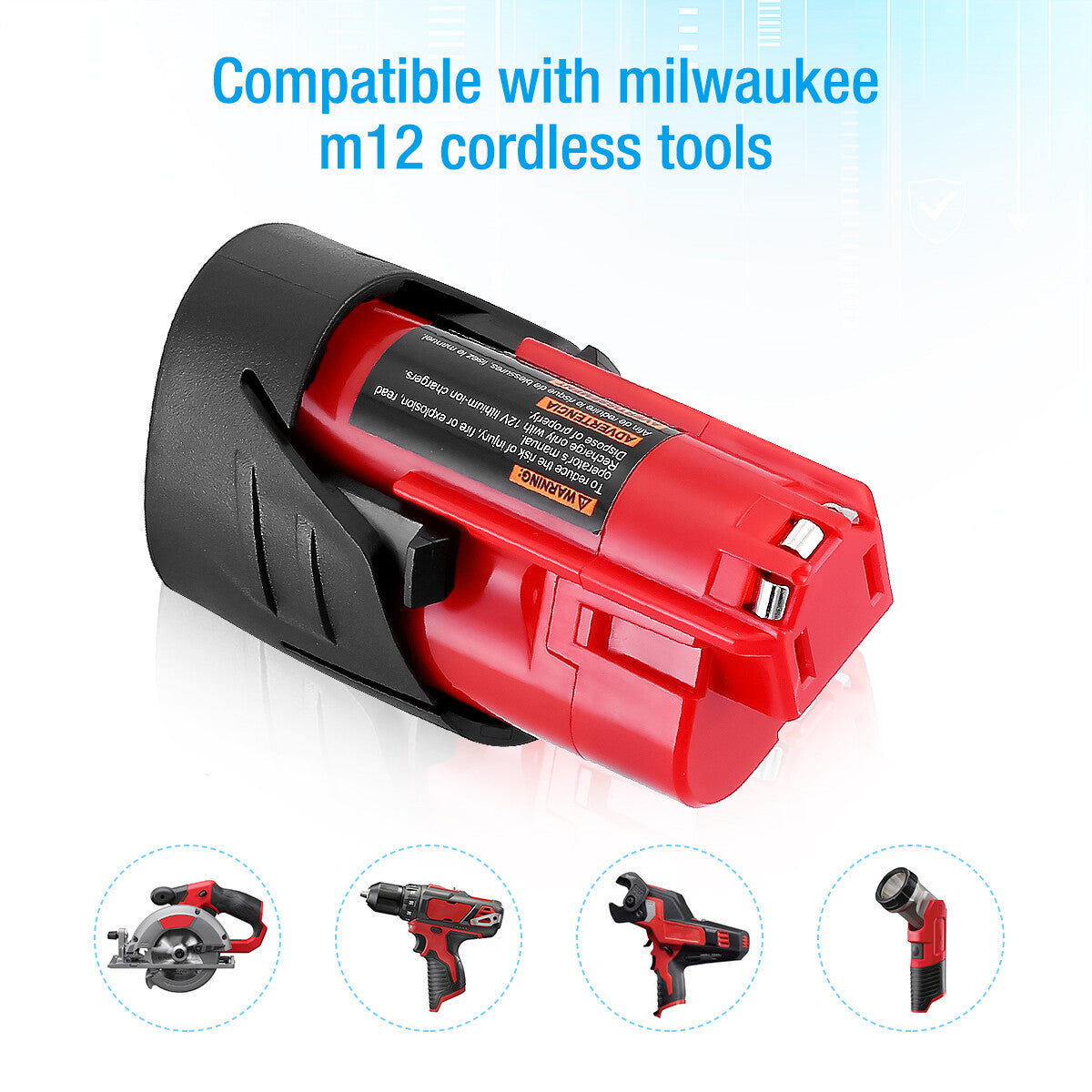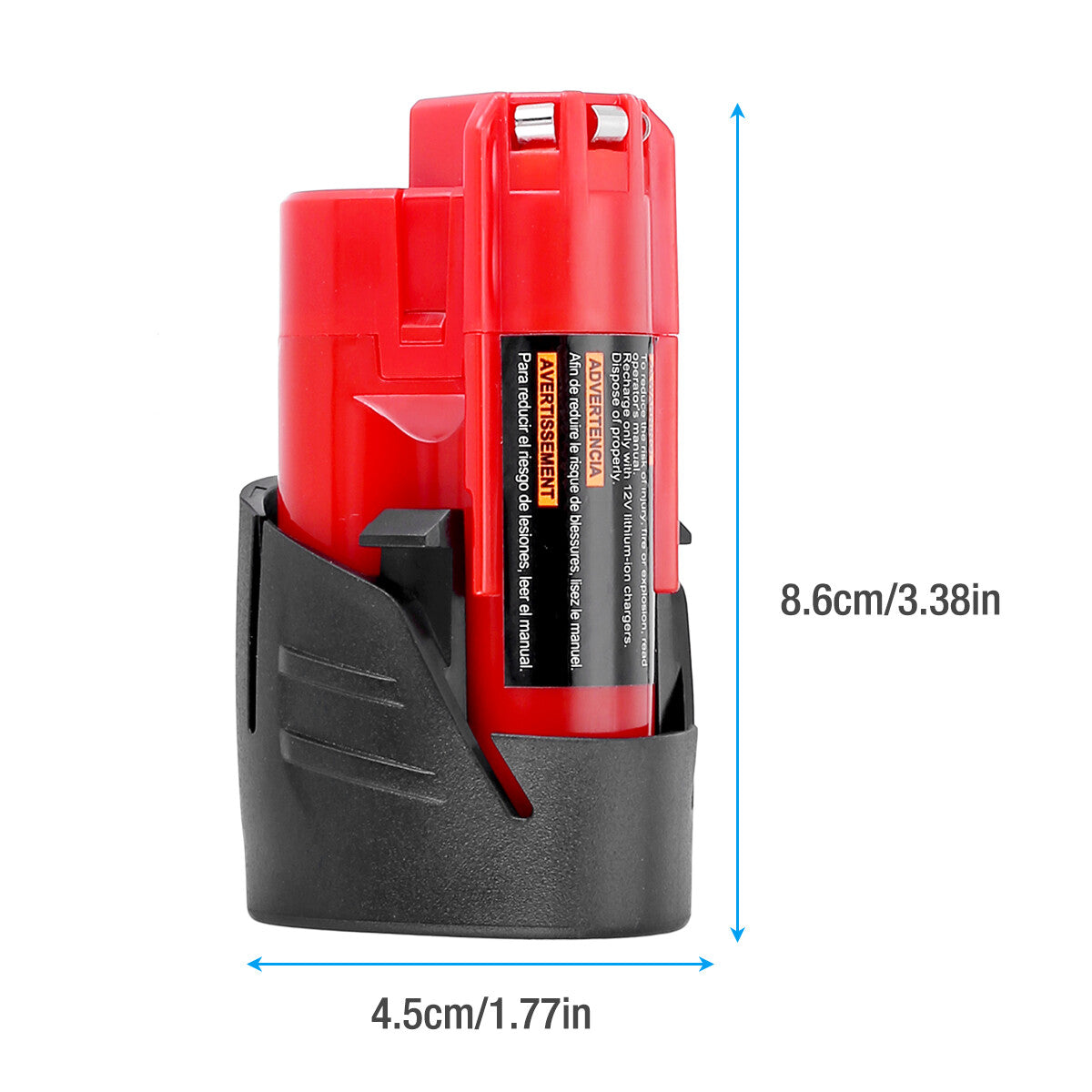 Collapsible content
Ask a Question

Just get in touch, and we'll try our best to respond within one business day.

Send an E-mail to Customer Support directly: support@powerextraofficial.com.
Shipping Policy

WHAT ARE POWEREXTRA'S SHIPPING OPTIONS?

Each order from Powerextra is shipped from the United States and will be delivered by standard shipping with an estimated delivery time of 7-14 business days.

Which countries do you ship to?

We can ship to the United States only.

Domestic Shipping For United States

| | |
| --- | --- |
| Orders over $30 | Free standard shipping |
| Orders under $30 | Standard shipping charge of $5 |

Delivery areas within the U.S.

Powerextra website supports delivery to most areas of the United States. We cannot deliver to the following areas:

Alaska

American Samoa

Guam

Marshall Islands

Northern Mariana Islands

Palau

Puerto Rico

U.S. Virgin Islands

Armed Forces Americas

Armed Forces Europe

Armed Forces Pacific

Thank you for your understanding.

Notes:

1) Standard Shipping is not available for P.O. Boxes and APO/FPO addresses.

2) After the order has been paid, the warehouse needs 1-3 business days to process your order. You will receive a notification once your order has been shipped.

3) If you place more than one order, you may get multiple deliveries. We'll send you a shipping confirmation email for each order, so you'll know exactly what to expect and when to expect it.

4) In most cases, the package will be delivered within the estimated time of arrival. However, the actual delivery date may be affected by weather conditions and other external factors. Please refer to the tracking information for the most accurate delivery date.

5) If there is any shipping issue with your package, you must contact Customer Support within 30 days of  placing your order.

How would Powerextra ship my order?

USPS and UPS are our logistics partners to ship out Powerextra products. we will choose the carrier that we think works best for our customers.

How do I check the status of my order?

Once your order is picked up by the carrier at our warehouse, we will send you a shipment tracking update email with the estimated delivery date and tracking number.

I ordered more than one item. Will they all be delivered at the same time?

We try to make sure all your items reach you at the same time. Sometimes our products are not always sent together since different shipping options can be used,depending on the product. Once an item has been shipped,you will receive a shipment notification email.

Why is there no tracking update?

If your order is still under the estimated delivery time frame, kindly wait patiently. Once this process has been completed, you will see tracking updates.

If your order has not been updated for a long time and is overdue, you may contact the shipping courier or contact us for help.

Can I change the delivery address of my package after it has been shipped out?

Unfortunately, we cannot change the shipping address once the product is in transit.

What do I need to do when the product I received is different from the one I ordered?

Please contact customer support at support@powerextraofficial.com.

Delivered but Not Received

All product deliveries are arranged by the logistics company. If the tracking information shows "delivered" but you have not received your package, please contact USPS or UPS promptly.

You can also contact us or chat with us online if you have any questions.
Warranty & Return

Powerextra's warranty and return policy clarifies the rights and obligations of users with respect to the products you purchase, including important limitations and exclusions.

Warranty period

For all products purchased on Powerextra's website, Powerextra's customers are guaranteed the quality of their products for up to 12 months in all cases.

Limited to Original Consumer Buyer

The warranty on Powerextra's product is limited to the original consumer purchaser and is not transferable to any subsequent owner.

Warranty excludes

Powerextra's warranty does not apply to:

Products without sufficient proof of purchase.
Damage caused by misuse ther faulty parts.(including static discharge)
Improper installation.
Damaged by yourself.
Purchase the product by mistake.
Neglect, accident or modification, which have been soldered or altered during assembly.
Complimentary products.

How to

 

claim warranty?

Feel free to contact our customer service team at support@powerextraofficial.com.

Refund

We offer a 30-day no-hassle money back guarantee. This only applies to products purchased directly from Powerextra. For all products purchased from Amazon, ebay or other resellers, please contact the retailer or distributor you purchased from directly and follow their return policy.

Return DOA (Dead on Arrival) Item

Any products, dead on arrival (incorrect usage excluded) within 5 days after delivery or 30 days after shipment if the delivery date is not traceable (The order shipment date and order notification are provided to you by email).

In this case, please kindly provide us with proof as below:

The photos of original POWEREXTRA package with front and back sides;
The photos or video of the defective item;
The photos, video or screenshot showing the malfunction of the defective item.

Return Defective Item

If your product (only for items without Special Warranty terms in the product description and physical damage or incorrect use excluded) turns out to be defective:
Upon being returned, the defective item will be refunded or replaced for free. The products get damaged (physical damages and damages caused by incorrect usage excluded) within 30 days after shipment (The order shipment date and order notification are provided to you by email). Customer may mail the products back to us. Full refund or replacement plus shipping cost reimbursement will be issued to you upon receipt of shipping proof (available tracking number or a screen shot of shipping receipt).

After returning the defective product, please kindly provide us with proof as below:

Photos of the front and back of the packaging envelope or box;
Photo, video, screenshot, or description of the defective item;
Photo, video, screenshot, or description of the defect or defective area.

Return Incorrect Item Received

If the item you received is completely different from the one you ordered, please contact us at support@powerextraofficial.com and provide us the picture proof of the error. If return is necessary, replacement plus shipping cost reimbursement will be issued to you on receipt of return proof. Please be sure that the incorrect item you return is in the original package and the merchandise is in the same condition in which it was received.

After receiving the incorrect product, please kindly provide us with proof as below:

The photos or video of the incorrect item;
The photos, video or screen shot showing the malfunction of the defective item.

How to Return/Replace an Item?

Customers shall

contact us 

at support@powerextraofficial.com before returning any item. Powerextra will not be responsible for returned items without notifying us in advance.
Please remember to include a note in your package indicating the following details: your order number; SKU numbers returned and quantity; A short description of the problem of the defective item. This note will help expedite the processing time for you.
Please keep all packaging material and partial shipment note as they're needed for returns. After mailing back the products, please be sure to provide us the tracking number of the returned package, if there is no tracking number available, a picture of shipping receipt is necessary. If neither of them can be provided, Powerextra might have to hold processing for you until the package arrived.
We will proceed with replacementin 20 business days after confirming that the defective item is received at our warehouse. The final resolution is subject to the availability of the replacement items.